I participated in something super fun this summer! It was called MugSwap2013, hosted by Kim over at
A Cuppa Kim
. Over 800 people participated! I was assigned a person to send a mug (and some fun extras!) to, and another person was assigned me. I really enjoyed hunting for the perfect mug for
Katie
. And I was thrilled to receive a beautiful mug from
Jess.
Not only did I enjoy the whole process, I also made two new friends! It was such a fun experience!
here's my box, all ready to be taken to the post office!
these were all the goodies I sent to Katie ~ a beautiful aqua mug, a journal, some cute dishtowels, a scented candle, teabags, and a box of Lorna Doone cookies! I wanted to include everything needed to have a quiet tea-time!
I loved the shade of that mug - so pretty! And when I found that scented candle at the store, I couldn't resist! I thought it would be perfect for fall!
And this is the gorgeous vintage mug that Jess got for me! I have never seen a mug quite like this one before. So beautiful! And that bird! I love it.

The mug is the perfect size for that little pick-me-up coffee in the afternoon that I sometimes need.
If you want to see more of the mugswaps, click on the link below.
Linking up here: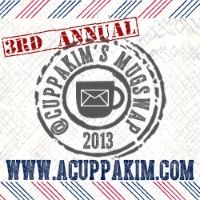 Have a GREAT day, everybody!